Bedford
Auxiliary Territorial Service
Second World War ATS Service of Eleanor Mary Watts
---
by Mrs Dorothy Sewell
My mother was a widow and so she belonged to 'friendship club' that met in Kimbolton Road. While a member of this club she received a letter to join the Auxiliary Territorial Service (ATS). She was 31 years old.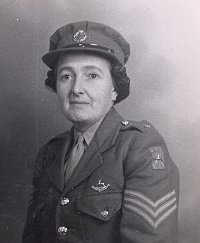 My mother went into private digs in Kempston when she joined. She went to Litchfield Barracks to train for store management and was in charge of the stores at Kempston Barracks to help kit out the soldiers of the Bedfordshire and Hertfordshire regiment. The Kempston Barrack's store was a central store for the Bedford area. In 1941 she was promoted to Sergeant.
Later in her service she went to live in Cutcliffe Grove, Bedford along with 14 other ATS girls. Still later, she moved to 1 Spring Road in Kempston.
I was able to visit my mother by staying in a Salvation Army House in Kempston Barracks (I lived with my grandparents in Hail Weston).
While my mother was at Kempston Barracks she burst a vein and she went to the convalescent home at Elton Hall near Peterborough. This was a home for all Forces members. It was frequently visited by Marina, Duchess of Kent, who was then President of the Red Cross.
My mother was given her release papers from the ATS on the 31st October 1945 after which she went to work for Mr Lane at 'Goldings' shop in the High Street, Bedford .
---
Click on image to see larger version: