Your Library At Home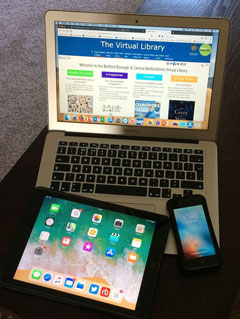 You can access fabulous up to date e-books, audiobooks, magazines, newspapers and a whole lot more from home using your smartphone, tablet, laptop, PC or Mac.
All you need is a library card number and PIN!
Don't have a PIN?
Click here and we will email your PIN to you
.
If you do not receive an e-mail from us within 5 minutes please
Contact Us
and we will update your library record and resend your PIN.
What resources do you have and how do I use them?
Whilst the branch libraries are closed the Virtual Library is open for business so you can keep reading!
RBdigital
For e-books, audiobooks and magazines which can be downloaded and read offline.
Download the RBdigital app and register for an RBDigital account by clicking on 'New to RBdigital? Register Now' and follow the four step process.
Once you have an account you can search, checkout (borrow) and download up to 10 e-books, 10 audiobooks and unlimited magazines.
If you wish to use the RBdigital website on a laptop or PC you will require additional software for the e-books called Adobe Digital Editions and for the audiobooks called RBDigital Media Manager. You can find out more and download the software from the RBDigital help pages
Log in here to access the RBdigital website.
PressReader
For national and international magazines which can be read online and offline.
Log in here and click on 'Sign In'to create a PressReader account.
Now download the PressReader app and log in with your PressReader log in details; you will have three days access to search, read online or download the newspapers and magazines.
Once the three days are up you will need to go back to the Virtual Library log in, access the PressReader site and log in with your PressReader details to restart the clock.
You will be able to use the PressReader website to read online in the same way.
Freegal
5 hours of music streaming and 5 tracks downloaded for free a day.
Download the Freegal app, Enter Bedford, Select 'Bedford Libraries UK' from the list, then log in using your library card number and PIN.
You can then search and stream for up to 5 hours a day, plus download 5 tracks a day to keep.
You can use the Freegal website in the same way - just log in here
Find out more about these and the other fabulous services you can access from home here.
---
Page last updated: 25th March 2020