Irish Family Tree Top Tips
Before you start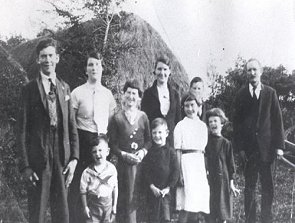 Visit 'Moving Here' an archived website which is a great starting point for those tracing ancestors who were not born in the UK
Read all you can about the subject. Search the online catalogue using terms such as 'family history', 'genealogy' or 'Ireland genealogy'
Your research begins
The accepted method of research is to start with the known (yourself) and then to work backwards, one step at a time, from relatives living here in Britain. Decide which branch of your family to research first, your father's or mother's
If your ancestors were born in England or Wales after 1st July 1837 start your search with Births, marriages & deaths (civil registration)
If your ancestors settled in the England or Wales after 6th June 1841 take a look at Census records (1841-1911)
If you wish to read up on the history of Irish settlement see the 'Migration histories' section of the Moving Here archived web site
Key resources
Irish birth, marriage and death records (Civil registration)
Census records
Church records
1. Irish Birth, Marriage and Death records (Civil registration)
Civil registration began on the 1st Jan 1864 (1st April 1845 for Protestant marriages) and continues today. Selected dates (more will be added in due course) freely available at irishgenealogy.ie
You can apply for a birth, marriage or death certificate from the General Register Office (GRO)
If you are unsure of the event date, you will need to use the index.
Index to Irish Births, Marriages and Deaths
Family Search
Click 'Search' then select 'Ireland' on the map of the world. Select 'Ireland Civil Registration Indexes' from the full list of collections
London Family History - Has the index on microfiche/film.
Other Irish Births, Marriage and Death Records Online
Roots Ireland
This is a pay to view website which has detailed birth, marriage and death records as well as church records mainly between 1864 and the early 1900s but new records are being added all the time.
These records include the same information as you would find on a certificate so a subscription to the site may be good value. Click the 'Sample Records' to see the information included in each record.

Census Records
There are issues with accessing census records, as the 1821-1851 censuses were destroyed in the Four Courts Fire in 1922. The 1861- 1891 records were destroyed by order of the British Government during WWI to save space or to hide the evidence of decline in population after the famine. However, 1901 onwards censuses do survive.
Census substitutes
Church Records (baptisms, marriages & burials)
The majority of original church registers are still held at local churches in Ireland but many genealogy centres have transcribed and indexed church records.
Roots Ireland - Catholic records from the mid 1800s to early 1900s. Very few Catholic church records pre-date 1820
Ancestry Library Edition - mainly Catholic records
National Library of Ireland - lists Catholic records available on microfilm
Church of Ireland (Anglican) - These records are more complicated. Many original records were destroyed in the 1922 fire, some records can be searched at:

See guides from the:
Books to read
Newspapers
The British Newspaper Archive has some Irish newspapers. Free to access in any Bedfordshire library.
Useful articles
Family Tree Magazine (Bedford Central Library, Leighton Buzzard Library and Dunstable Library have back files)
Useful websites
WebLinks - A list of websites to help you trace your family history.
Local and Family History A-Z - Describes other sources that are held in Bedford Borough and Central Bedfordshire libraries that may help you learn more about your ancestors once settled in England and Wales
Going further in your research
Good luck with your search!
---
Page last updated: 1st January 2022